HOWARD REGISTER Operates along the lines of a Club / Organisation
HOWARD Historic Tractors and Rotary Hoes. DH22, DH226, DH22 Shunter, DH22 4WD, 16A - 3 x wheeled, 16D - Morris powered, Kelpie, Platypus Dozer, Rotary Hoes, 12Hp, 8Hp, Junior, Bantam, Cub, "V-Twin", Bullfinch, Terrier, Gem, Stationary Engine, Gen. Sets, 810cc, Yeoman, Grillo, Foxie, Hauler, Trench Digger, Howard 2000 - including Briggs & Stratton engines: Model/Series 23A,23A-B, 23A-FB, 23A-R6, 23AR6D, Howard Parts, Literature, Information, Workshop Manuals, Parts Lists, Handbook.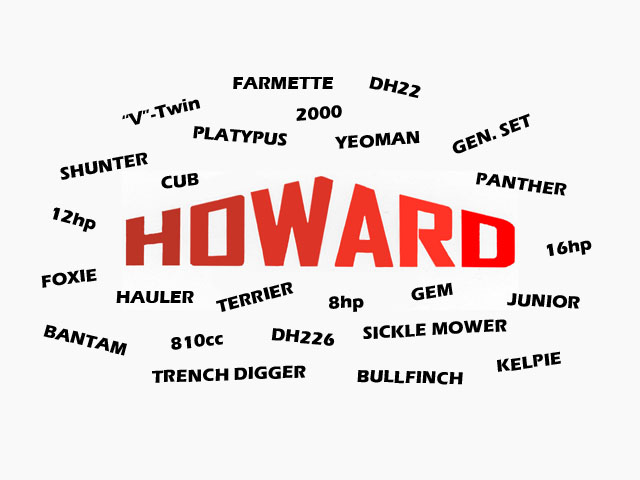 HELP!!!

SOME TIME AGO A HOWARD ENTHUSIAST MAILED TO ME SERIAL NUMBERS FOR SOME HOWARD MACHINES. SOMEHOW, I HAVE MISPLACED THE HOWARD 2000 S/Nos. and YEARS FROM 41029 BEING 1966, BACK TO 40200 BEING 1963 OR EARLIER.

Please see JOIN/MEMBERSHIP Page for details on how to join the Register.

UPDATES 5th December, 2016

A few Historic Photos and a very interesting Article.