Items For Sale Enquiries: ROBERT MOORE - Register Co-Ordinator, Phone: (02) 6845-3279, Mob: 0458 453 279. Email: ramoore@well-com.net.au Remember..... we are both workers, so the answering machine will take your call, and we will get back to you A.S.A.P.
##########################################################################################################################################
The enthusiasts, who pay an annual fee to the Register, are responsible for keeping this website and the Register operating. There are currently just on 100 members, Australia / World wide, in the Register, as at July 2018. We appreciate your valued assistance and your co-operation. Wishing all... good times and fortunes with your projects. Robert and Anne Moore, Co-Ordinators.
------------------------------------------------------------------------------------------
There is a lot of mis-information out there regarding Howard Machinery. The most common misconception (false statement) is that Howards were built in Gilgandra NSW. This is in fact untrue. The Rotary Hoe was invented at Biddon, 30kms East of Gilgandra. The factories and assembly points were at Northmead (Parramatta area) and Moss Vale, in the Southern Highlands. With the assistance of Howard Family members, ex-employees and some former Dealership employees, the Register has been able to source much material and expertise. Serial Numbers and dating are known to only but a few and they do their best to assist one and all. The Register is grateful to these people, and we trust you are satisfied with what we are able to do. Please help us to help you by supporting the Register. INFORMATION IS PRECIOUS. So if you have a problem, just pick up the phone and I can honestly say "I will do my best". Robert.
------------------------------------------------------------------------------------------
One thing that really annoys me when a Howard enthusiast contacts me for either a second opinion or first up request, and they learn that the information previously obtained, or not fully explained, has cost them money. The Howard Register is supported by ex-employees, Howard Family members, Servicemen, Technicians and enthusiasts who are experts in their own field. Some Serial numbers for dating are available, Lubrication books, Workshop and Instruction Manuals. Even a letter signed by Arthur Clifford Howard, stating how disappointed he is at the amount of mis-information out there.
We are also supported by a collection of photographs, many with precise details, commissioned by Howard Australia, put together by Howard Senior Management employees Robert Ferris and Penn Richards. We even know the whereabouts of the official Howard artist, who did a lot of the drawings etc. leading to Manuals and Sales Brochures.
People who think they know, but have never done any real or proper research, are a danger to the enthusiasts trying to keep the Howard brand alive.
We have a composite list of Suppliers and some Manufacturers, including the Lithgow Small Arms Factory, who made components. These Companies supported Howard Australia during production, manufacturing and assembling machines. After the Howard factories in Northmead and Moss Vale NSW closed, things changed, including the Logo.
The Register does its best to try and put enthusiasts in contact with the right individual/s. Miracles take a lot longer. Just because it is put on the Internet, does not mean it is correct. I have found the Internet quite unreliable at the best of times, hence the amount of research done to get it right first time. Sometimes this does not happen, but I am pleased to say that without the support of those I am involved with, I would never have made it this far. Their assistance is invaluable.
Please, instead of making me your second or more call, make it your first. I too have learnt a hell of a lot since starting out in 2005. I still enjoy the thrill of meeting people who have genuine knowledge of Howard machinery. That's how you gain the correct (not Internet speculation) information, that not only saves you money, but time as well. There is no need to backtrack, and the Register will do its best. Did you know Howard Auto Cultivators manufactured the frame and sight to place rifles into, to sight them in? A trip to Lithgow Small Arms Factory Museum is warranted.
Like I said - miracles take a little longer, but there is an answer out there.
Keep an eye out for our "Gathering of Howards". In most instances, our specialist advisors are always on hand. - Robert.
------------------------------------------------------------------------------------------
HAVING PROBLEMS WITH A MACHINE? These people have offered their services to assist you with your project, and are on your Howard Register lists. Please check before contacting us.
Peter Robinson (Kelpie and 2000's, "L" and "LH" engines) - 0414722166
Shane Djuric (Kelpie, 2000's, Hauler) Julian Calleja (All Machines and Dating)
Gary Sanderson (V-Twin Engines)
Matthew Vella (All Machines, and dating walk-behinds) John Gray (Walk-behinds) - 0438494278 Junior Owners. Please read Article # 4, located on the "Restoration Articles" Page, refering to the Oil Flow / Blockages situation regarding these and any machine. A lot of effort went into this Article. Makes excellent reading. GEM Owners need HELP? Lou Grima - 02 9626-6116 or 0434026408.
------------------------------------------------------------------------------------------
O.K. People. Please Take Note. There is a Booklet out there called "Modern Means of Increasing Income - ROTAVATORS". The cover and back page have the 4WD Tug on it. After doing some research with the help of Members who have this Booklet, it appears there are at least two versions. Check inside the one you have and see if it contains information on the 4WD, and has an Order Form in it. If yours are missing, I have the three pages. They are $3.00 posted. (Postage STAMPS would be the best idea.) Robert.
### THERE HAVE BEEN A FEW CHANGES TO FOR SALES and WANTEDS. PLEASE LET ME KNOW WHEN AN ITEM IS SOLD OR NO LONGER WANTED. OUTDATED ADVERTS HAVE BEEN REMOVED, AS HAVE NON MEMBERS', EXCEPT THE PAID ADVERTS. IT IS EMBARRASING WHEN A PROSPECTIVE CUSTOMER TELLS ME THE ADD IS OUT OF DATE! WE TRUST WE HAVE NOT INCONVENIENCED ANY INDIVIDUAL. ###
________________________________________________________________________________________________________________________________________
FOR SALE / SERVICES
The Register will do all it can, in a positive manner, to assist enthusiasts with their machinery. Ring Robert or Anne on (02)6845-3279 for details. We wish you all the best.
Matthew Engelbrecht of "CLAY, DIRT & CLOVER" (New Owner), is now available. He has moved his business to NSW. Phone number is 0418 362 968.
HOWARD PARTS. Michael of Gulgong, is a Howard Rotary Hoe Wrecker at MUDGEE NSW. Ring him on 0413 789 105.
NEED HAULAGE / TRANSPORT???? Contact LOADSHIFT (www.loadshift.com.au). It is a site that Transport Companies use as a National listing for freight moval. You request a quote for a job via their email. Jimboomba, QLD area - call Frankie on 0405 180 479. Goes anywhere. (Have a read of Article #1 on the Restorations/Articles Page.)
HOWARD SHIRTS - HOWARD SHIRTS - HOWARD SHIRTS The LOGO is printed on a Pocket on the left front, and larger on the back. We have one shirt left - size: Large. Cost is $65.00 plus postage. Ph - (02)6845-3279, Robert.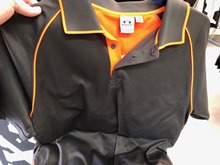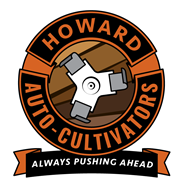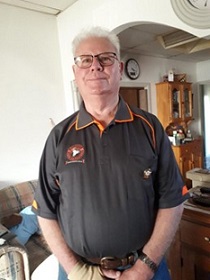 | | | |
| --- | --- | --- |
| | Click on pics. for larger image. | DES is a very happy customer. |
Well folks - it's finally here! Howard Register Member, Shane Duric's - HOWARD TRACTORS Book. This has been a long time coming, and has the support of not only the Register, but the Howard Family and former Employees. The price is reasonable and any mistakes were caused by the Publisher - not the Author, Shane. So enjoy your reading because there are still machines out there to find. You can contact Shane on 0400 266 707 to order your copy.

Click on pic. for larger image
TONY PETTITT has put together a book, being Volume 1 Part 1, of a series of articles to better help the Howard enthusiast understand the HOWARD brand. Email Tony for your copy - howardrotaryhoe@gmail.com or ring 0408381211.

Click on pic. for larger image
Howard Register Items in Stock -
<<<<< Unfortunately, AUSTRALIA POST have decided to double the fee for a parcel / package that requires tracking. The fee is now $9.00. This fee will be required in case a package goes missing. This occurred twice during 2022. I cannot, any longer, absorb losses. Trust you will understand. I am not a business, just an enthusiast like the rest of you.>>>>>
HOWARD LAPEL BADGES (Actual Size).
Due to overwhelming requests, we have had made Lapel Badges. These are $8.00 posted. Please ring Robert or Anne on (02)6845-3279.
HOWARD 100 YEAR LAPEL BADGE (Size - 28 x 35mm)
FREE at Rallies to participants.
The 100 Years Manufacturing Badges, sponsored by the Hare & Forbes Machinery Group and the Howard Register, will only be available to those members who attend Register nominated events.
Just because an Organisation promotes such an event, unless it is on the Register website, where all events are listed for 2023, plus advertised in The Old Machinery Magazine, it is that Organisation's event only.
PLEASE SEE EVENTS PAGE FOR FULL 2023 EVENTS LISTING.
HOWARD 100 YEAR PLAQUE, LAMP (Size - 320 x 220mm)
Check this out!! 100 Year Plaques commemorating 100years of Rotavation, 100 years Manufacturing.

Available from "MONSTER SIGNS", Fitzroy Street, DUBBO NSW. $130.00 plus postage. Phone (02)6884-7078, Michelle or Lucinda. Ask for Howard Register Artwork. (This is a lamp, which changes colour and is rechargable via USB cable, included - click on movie.)>

Click on pic. for larger image and video
HOWARD REGISTER NAME PLATE (Size - 100 x 250mm)
These Plates are available for $12.00, posted. Ring Robert - (020)6845-3279.
HOWARD HAULER Owners. Transfers or Magnets for your machine bonnets are now available. Each are $15.00 - Posted. Ring Robert Moore - (02)6845-3279.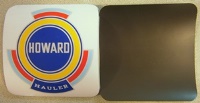 New HOWARD HAULER Sticker. Original Hauler transfer available from Monster Signs, Dubbo NSW. Ph: (02) 6884-7078. Reference: - Howard Register Artwork.
HOWARD HAULER - Metal Name Plate. $15.00.... Registered Postage - $20.00. 4 left.
BANTAM STICKERS available for $10.50 - Posted. If you click on the picture you will see a larger version, which is almost the exact size of the sticker. The Signwriter has made five (5) more of these, that are uncut, You have to edge cut them yourself.
HOWARD Vertical Transfers 260mm x 40mm - $15.00 Posted. 5 left.
HOWARD PLATES
Do you need any of these plates?The Register only has one left of the Model/Serial Number plate and five of the Patent plates left.

Click on pic. for larger image
HOWARD CLOTH BADGES (75 X 75mm), $20.00 posted.
MANUALS ARE PHOTOCOPIED, SPIRAL BOUND, and INCLUDE POSTAGE. Due to the 3rd postage increase in two years, all Manuals have had a price increase.....If a Manual is not listed, please contact the Register (02) 6845-3279
Photocopies of original DH22 Sales Brochure - $15.00 DH22 Manuals and Sales Brochure - $49.50 DH226 Manual - This manual was put together utilising 2/3 books and hand books - $49.50 Howard 2000 Manuals - Late / Early models combined. Separate Attachments / Implements Manual plus Sales Brochure - $49.50 Howard 2000 Implements-Attachments Manual, Includes Parts List - $22.50 Howard HAULER - Industrial Trucks Instruction / Parts Manual - $19.50 Howard KELPIE Service / Parts Manual - $23.50 Howard TRENCHER Manual - $19.50 Howard Rotary Hoe - JUNIOR Instruction Book - $14.50 Howard Rotary Hoe - JUNIOR - Reverse & Non-Reverse Parts Book - $17.50 Howard Rotary Hoe - JUNIOR Mk2 - Instruction Manual - $17.50 Howard Rotary Hoe - JUNIOR Mk2 - Spare Parts List - $17.50 Howard Rotary Hoe - JUNIOR Mk5 - Instruction/Parts Manual - $17.50 Howard Rotary Hoe - TERRIER ROTARY HOE Reverse Model Manual - $17.50 Howard Rotary Hoe - TERRIER Tractor Instruction & Spare Parts List - $17.50 Howard Rotary Hoe - TERRIER Tractor (Hoe) and attachments Operating Service & Spare Parts Manual - $17.50 Howard Rotary Hoe - CUB Operator's / Parts Manual - $15.50 Howard Rotavator - BANTAM Instruction / Parts Manual - $15.50 Howard Rotary Hoe "FIVE" - Instruction / Parts Manual - $15.50 Howard Rotary Hoe "EIGHT" - Instruction / Parts Manual - $15.50 Howard Rotary Hoe "TWELVE" - Service Manual - $17.50 Howard Rotary Hoe "TWELVE" - Parts Manual - $17.50 Howard Auto Rotary Hoe 16 Type "D", (4 wheels). Instruction / Parts Manual - $15.50 Howard Auto Rotary Hoe "A16" - Three wheeled, powered with 16Hp Morris engine, Instruction / Parts Manual - $15.50 Howard GEM / GEM MkV - In line Twin cylinder 810cc (combined) Instruction / Parts Manual - $27.50 Howard BULLFINCH Owners Handbook / Operating Instructions & Spare Parts / Tractor & Attachments - $19.50 Howard 810cc Twin Cylinder, petrol engine booklet, for specifications, maintenance and part numbers - $15.50 Howard 2408 Engine Book - $15.50 Howard "L" and "LH" Engine Book - $15.50 J.A.P. Engine Handbook - $15.50 VILLIERS Mk 15 Engine Book - $15.50 Howard "A" Series, Model D226, Milwaukee, Le Roi Engine Instruction / Parts Manual - $21.50 Howard "A" Series Engine, Power Unit (Australian Model) - Parts and Instruction Manual - $24.50
1945 HOWARD GENERATING SETS P.E. 5KVA, 240 VOLT, 50 CYCLE A.C. (Aust), No.1 MK 1. "V" Twin Engine.
The booklet was prepared by the Australian Military Forces and is dated 28th February 1945. Cost will be $24.50
Briggs & Stratton - 12 Volt Electric Starter-Generator Unit ALSO Voltage Regulators - Installation & Maintenance Sheet (includes Postage) - $9.50
(See "Article Three" of - RESTORATIONS / ARTICLES Section).
Sales Brochure, put out by E Hassett & Sons, Howard distributors in Melbourne, regarding implements, other than the Rotary Hoe, for DH22's. Cost $9.50.
We have a large range of GENUINE MANUALS in stock. Photocopies are available upon request.
Howard - Lubrication / Service Log Book - on ALL Machines. (Half page booklet) - $10.00 Posted.
------------------------------------------------------------------------------------------------------------------------
Thanks to Richard Betts, owner of a Beaver, who found these cloth items at a former Howard Dealership, and passed them onto me. What else is out there?? This is why I say, check out your former Howard Dealership.

Click on pic. for larger image
------------------------------------------------------------------------------------------------------------------------

HEAPS of Howard Walk Behind PARTS. Michael - Gulgong NSW 0413789105.

MAGNETO Repairs. Brian Gray (02) 6866-1238. (Cookamidgera is near Parkes NSW)

MAGNETO Repairs. - QUEENSLAND. Jeff Kline (07) 4696-1357. PO Box 82, Cambooya QLD 4358

MAGNETO Complete Rebuilds. QUEENSLAND. Adrian Hayes, 5 Blunder Road, GLASTONBURY (via Gympie), QLD 4570. (07) 5484-9184

DAMIEN - 03 9877-0675, can supply Lucas RS1 MAGNETO CAPS.

MAGNETO COUPLINGS - Vernier Couplings 19/20 tooth. They are $47.50 - plus Postage and Tracking of $9.00. Robert - (02)6845-3279.

Need the SPIDER CAP for your GEM 810cc??? Ring 0411778636.

810cc Twin in Line ENGINE PARTS. Daniel & Norm Spencer have acquired a heap of spares. B.H: 0487 639 204, A.H: (03)5578-5517.

GASKETS - GASKETS - GASKETS - Need a GASKET? Contact: Craig or Ron Swanson of SWANSONS GASKETS P/L. in HORNSBY NSW. Phone - (02) 9477-2427, Fax - (02) 9477-2756. Get a quote from them before going elsewhere. You will be surprised. NOTE - New old stock Gaskets may contain asbestos. Not only are these not permitted to be sold, but the asbestos goes hard and cannot be compressed under 80psi and may possibly fail, caused by cracking etc.

BEARINGS & SEALS. Always talk to your nearest supplier and take time, as a few people have been able to source items they thought or were told don't exist. There is always an alternative. Think Plumbing and Brake parts suppliers too, especially for leather seals.

GEARS - WORM DRIVES - CLUTCHES.... (John HILLS) K.J.& L.M. HILLS Engineering, 85 Arcadia Road, Arcadia NSW. Suppliers of Parts to suit GEM, 350, 352, Terrier, Bullfinch, Foxie and Kohler engines. Anything walk behind.Phone John: 0407282494.

PANELS / IMPLEMENTS / PARTS Peter Robinson of Kangaroo Flat, VIC. (03) 5447-8667, Mob. 0414722166 is able to make or supply - Bonnets, Grilles for Howard 2000's, IMPLEMENTS to suit Howard 2000's and Kelpies, Hand Brake Kits, Clutches, "L" and "LH" engine parts, GEARS - is able to organise gears to be cut. He is currently, also looking at TERRIER, but will look at any gear. Can also supply KELPIE Decals. Peter has been able to source a supply of KELPIE front Wheels. He is now making DH22 Radiator Caps, DH226 Radiator Caps and Oil / hydraulic / fuel Caps. Pete seems to be into everything. Give him a ring for details.
AUTO SURPLUS PTY LTD for all your Spare Parts Needs. (Especially those HARD TO FIND Parts!)
Phone: 03 9873-3566, Fax: 03 9874-1485
# Rings & Pistons (loose or in sets)
# Gaskets (made to order if necessary)
# King Pins, Ball Joints, Tie Rod Ends, Bushes
# Ignition Components
# Brake & Clutch Parts
# Valves, Bearings, Seals, etc.
# Water Pumps, Oil & Fuel Pumps & Filters
# Ring Gears
Parts from 1921 - All models - Car, Truck, Tractor, Forklifts, etc.
All mechanical, engine and suspension parts from 1910 to present.

WATER PUMPS --- WATER PUMPS. I have just had a DH226 LeRoi engine water pump overhauled by Auto Surplus. To say I am thrilled, is to say the least. I rang them to discuss my situation and they told me how they go about overhauling the pump. They gave me a price and the job was done. They even organised the gasket. GIVE THEM A GO! Robert.

Click on pic. for larger image
TYRES / WHEELS
This was my last purchase for tyres from TYRERIGHT, during 2019 (roughly). There are two 15" sizes. Robert.

Click on pic. for larger image.
Howard 2000 Owners - 590 x 15 Tyres are available in metric equivalent as: 6.5 - 80.15 (6 ply). 750 x 16 Jeep replica tyres were also fitted to these machines (not all). Have been sourced at TYRERIGHT or your nearest agricultural tyre supplier.

HOWARD 2000 RIMS - Early Volkswagen or F J Holden is exact same rim, just cut out centres.

GOLD STAR TYRE and BATTERIES at Balhannah S.A. (08) 8388-4176, have Howard 2000 Tyres - BKT R1 6.5/80-15.

GEM - 20 x 12 x 2 PLY is the known standard tyre as per the Manual. But in today's world you can find 4.00 x 12 x 2 PLY, Agricultural "V" Lugged, for around $90.00 without tubes from Tyreright. If you need tubes, ask for the correct valve stem, or a brass 90 degree screw on fitting. It swivels. Any Bigger tyres will more than likely not fit onto the machine. Make sure you measure the overall circumference of your tyre, and check the new one before you fit it. John HILLS (listed earlier) can supply tyres.

DH226 & DH22 Owners. Jeep relica tyres are available at nearly half the price - 600 x 16. Rear tyre situation might be solved.... A member has placed 11.2 x 20 lugged tyres against the original size, and states that they are perfect. CHECK THIS OUT!!

TYRES & WHEELS RIVERINA. David Lindsay, in the Riverina District, has a good selection of lugged "V" Tread tyres. Give him a ring on (02) 6953-4818 or Mobile: 0418 161 921.

GEO TYRES ONLINE at Silverwater NSW, have TRI-RIB tyres - 400 x 8. As at 01/04/2021 $59.40 + Postage. Phone - 1800 750 510 or send an email to info@geotyres.com.au

PISTONS - PISTONS - PISTONS I have known Steve Plemming for some time and his Edge Machining Co.
If you need Pistons - Rings - Engine Rebuilding or White Metalling, give him a ring. He is also a Howard enthusiast. Phone: 03 5828-6250. Steve also does general engineering work. I also understand he has a supplier for gaskets.

ROBERT MOORE has a heap of BRIGGS & STRATTON parts to suit 3Hp up to 12Hp / 13Hp. Robert also has a limited amount of KOHLER & WISCONSIN parts -- including rings, pistons, air filters and gaskets. Before ringing, it would be easier, if you have the correct Part Numbers. LISTS can be Mailed out at $3.00 each. Covers Postage & printing.

Briggs & Stratton - Starter / Generator not used for some time - $300.00. (02)6845-3279 - Robert.

B & S PISTONS and RINGS, AVAILABLE - :

PISTONS : 294676 - 295455 - 295590 - 295842 - 298169 - 299087 - 299566 - 391676 - 393819 - 393880 RINGS : 277705 - 295852 - 297575 - 298174 - 298175 - 298982 - 298984 - 390486 - 390505 - 391654 391656 - 393277 - 393881 - 394954 - 394959 - 499921 - 499996 - 699658

FOR SALE - Howard 2000 STARTER / GENERATORS. N.O.S. complete with regulator. Some minor adjustment needed. $500.00 plus Postage. Ring: RODNEY BLACK - 0419794899, QLD.

12 Volt STARTER / GENERATOR for Briggs & Stratton motors. Contact your Rural or Country Fire Service, as they have stocks of these for fire units. I discovered this when putting together a trailered RFS pump for a village, when we fitted the engine.

AUTO CARBS AUTOMOTIVE - Throttle Shaft repairs, re-bush Carbies. 103 Norman Street, EAST BRISBANE, QLD. (07)3391-2433.

PERFORMANCE IGNITION SERVICES - Service most ignitions catering for Vintage units and the like. Spark Plug lead components. Nunawading, Victoria. (03) 9872-3644.

ALERT-----ALERT-----ALERT-----ALERT Be aware of modern Chamion Spark Plugs and possibly their equivalent, as they tend to glaze the bore and make engine out of tune. The D16 Spark plug is a major issue. Greg McNiece of Rally Badges has - 18mm, 7/8 or 22mm plugs for $19.80 or find 10year old plugs.

HAVING SPARK PLUG problems? Contact RALLY BADGES. ***Click on pic. for larger image***

DH22 RESTORERS - TAKE NOTE!! Holden - grey engine rear main seal is an exact fit for your engine.

I GET A LOT OF ENQUIRIES ABOUT DH22 ENGINE NUMBERS.
WHEN SITTING ON MACHINE SERIAL NUMBER IS ON L/H/S OF ENGINE BLOCK, AT BASE OF CYLINDERS. A 1" OR MORE, MACHINED SPACE IS EASILY SEEN ON EDGE OF TOP SECTION AT BASE OF CYLINDERS OF BLOCK. THE SAME CAN BE SAID OF SOME 226 MODELS AS WELL.
WALK-BEHIND MACHINES S/No. IS USUALLY ON TOP BAR/S.

I have been informed that http://www.mdr.co.uk/tillerparts/tillerparts2.html is a good site in locating Rotary Hoe parts from the U.K.

PAINT - Matching this paint is a little difficult, due to cessation of Lead content. There were possibly 4 shades by various Companies. A brownish Orange can be sourced. Use wet chips of paint. Some Retailers still have old LEAD contents. Ask them. Stop enamel fading - add hardener from 2 pack. An American Orange, No.5 Deep Burnt Orange, may be a possibility.

Righto. You know how we say Pre 1980 Howard Orange for paint? Well have a look at this. "Pantone 1665C" is known not as a burnt orange, but dirty orange, and looks the goods. Ask your paint mixer to bring it up on his portable tabs chart. I have been working alongside a new Signwriter and this colour looks great.

POLISH --- POLISH --- POLISH

Want a polish for your brass, copper or aluminium that works beyond belief? AUTOSOL Metal Polish in a 75mm tube. The tube itself is black and gold with white lettering - Autosol - on a burgundy/orange background, and - Metal Polish - in white, in a black background, with white, black and gold stripes. BLOODY BEAUTY!

INFO - I have just had the experience of repairing the steering on my Kelpie. The front pins on the bar were worn, as were the holes. Instead of replacing pins and building up holes, I used COPPER pipe and now have no play. I 'don't work the Kelpie so should last a long time. BRASS would be better.

KOHLER PARTS - John Hill Manufacturing, Arcadia NSW - phone: 0407282494, was the supplier to Howard Australia. Check out the Internet as America seems to have an abundance of parts. Just look up KOHLER PARTS. "OZ Engine and Spares" is another supplier.

Robert Moore offers FOR SALE = Phone: (02) 6845-3279

Howard 2000 - UNDERBELLY MOWER, (frame only). No gearbox, etc. .....$65.00 Howard 2000 - long Height ADJUSTING BAR .....$10.00 Howard JUNIOR - ROTARY HOE BLADES .....$10.00 each + Postage. Howard JUNIOR - VARIOUS PARTS. Not a lot. - Air Filters; Gears; Covers; Reverse Gear Jack Shaft with 3 Sprockets. OPEN TO OFFERS ON ALL ITEMS.

Don't forget about my huge range of BRIGGS, WISCONSEN and KOHLER parts. BRIGGS 3H.P. right up to 12/13 H.P., includes springs, governors, carby bits, carbys, gaskets, coils, rings, pistons, conrods. One NEW engine block. Robert - (02) 6845-3279.

FOR SALE - HOWARD JUNIOR (Heaps), PARTS and MACHINES, plus some DH22 PARTS / MACHINES John Gray 0438 494 278.

For Sale - HOWARD HAULER PARTS Matthew Vella - 0418 438 442.

Graham Hosford of the Central Coast NSW, offers For Sale his Collection of Rotary Hoes including BANTAM, BULLFINCH etc., due to ill health. Ring - (02)4368-1580.

FOR SALE - 4 x HOWARD DH22's. One has hoe missing, plus extra parts. $6000.00 the lot. Unfortunately, can't find the time to restore them. Wayne - 0412 656 153. Located in Ipswich QLD.

FOR SALE - Howard 2000 Implements - Matthew Vella: 0418438442.

FOR SALE - TERRIERS. Been through Fires. Johno Carter: 0421884557 - P.O.A. (VIC)

FOR SALE - Howard GEM S/No. 812145 and Howard Terrier. Reg Roberts: 0411352702, Tamworth Area. (6/21)

FOR SALE - 1978 Howard 2000, S/No 200N2405 + several implements. Yanmar engine. Colin Phillips - (07) 3882-2053. 25kms North of Brisbane. (10/21)

FOR SALE - Howard JUNIOR - goer. One for spares - $500.00 Howard GEM 810cc with magneto problems, plus literature - $500.00. Greg: 0467690572, Swan Hill (2/22)

FOR SALE / CHEAP - Howard JUNIOR. Turns over. No Muffler. Christopher - 0402455266 Casino, NSW. (4/22)

FOR SALE - Howard 2000. Has slasher and rotavator. Some o/haul work done. $1700.00 negotiable. Richard (02)4842-8014, M: 0427 456 718. (5/22)

FOR SALE - Howard 2000 (Early Model). Not run for some time. Front tyres need replacing, otherwise in good condition. $1500.00 - O.N.O. Brad: 0459 208 571, Newcastle. (5/22)

FOR SALE - Howard "8", Howard JUNIOR Reverse gear, Howard TERRIER. All in good condition. Shedded. Ring Brian: 0424 280 867 - Macksville area (NSW). (7/22)

FOR SALE - Undertree Rotavator. Needs work. Ken - 0428499806. (8/22)

FOR SALE - JUNIOR. Parts machine on scrap heap. Murray - 0429 157 791, Narromine NSW. (9/22)

FOR SALE - JUNIOR Rotary Hoe. Andrew, Dubbo NSW - (02)6882-1275. (9/22)

FOR SALE - HOWARD 2000. Immaculate restoration. It has Rotary Hoe, underbelly Slasher, quick release. $4000.00, contact Greg - (02)4443-4172. (9/22)

FOR SALE - HOWARD 2000, solid front tyres, 408 engine. Runs well. Blue original colour. Lance - 0413032924 - QLD. (3/23)

FOR SALE - HOWARD JUNIOR. History unknown. NON-GOER. Magneto missing. Carby disassembled. Has Tool Box. Cylinder head has been tampered with. $150.00 - NO OFFERS. (02) 6845-3279, Robert.

IF YOU DISCOVER AN ITEM HAS BEEN SOLD, PLEASE LET ME KNOW.

-----------------------------------------------------------------------------------

ITEMS WANTED

--------------------------------------------------------------------------- -------------------------------------------------------------------------------------------------------------

Does anybody know the location of a HOWARD COLLECTION, sitting in the hills, between MENDOORAN and COONABARABRAN, NSW and the backroad between these two towns??? I have been told by two people, but they cannot pinpoint the location. Not able to be seen from the road. Please contact Robert: (02)6845-3279.

-------------------------------------------------------------------------------------------------- --------------------------------------------------------------------------------------

HOWARD "M" Engine WANTED. No need to be running. I am setting up a static display of Howard Engines. - Robert, 02 6845-3279.
HAVE YOU SEEN THIS MACHINE ??? Ring: Robert Moore on (02) 6845-3279.

Click on pic. for larger image
These COMPRESSORS were built by Ingersoll Rand, using Howard Australia manufactured Le Roi engines. Both Ingersoll Rand and the former Howard Company archives make no mention of these units, built in the 1950's. I have found two of them, one in running order. I am looking for any Information, Sales Brochures or general knowledge. Robert Moore (02) 6845-3279.
HOWARD---HOWARD---HOWARD
The one item I do not have in my collection to display is a genuine early HOWARD sign - as shown.
With the closure of Howard Australia, the dealerships will have signs and flags. Please ask the dealerships for a sale price, or obtain them for free. Robert Moore - Phone: (02)6845-3279, Mob: 0458453279
WANTEDGear driven PTO off the rear of a DH22.This is the third and last PTO made by Howard Australia. It was made so as the DH22 could be more utilised.Contact: Robert Moore on (02) 6845-3279.

Click on pic. for larger image
DH226, Shunter (Tug), 4WD DH22, Kelpie, Hauler, Platypus Crawler in not too bad condition, and reasonable price.
Robert Moore 02 6845-3279
WANTED - A16 (3-wheeled) or D16 (4-wheeled), Morris powered Howard Tractors. Contact ROBERT MOORE - (02) 6845-3279, MATTHEW VELLA - 0418438442.
WANTED - A 6:1 In-Line reduction gear box to suit an 8HP Briggs & Stratton, on a Howard TRENCH DIGGER. Any ATTACHMENTS for any Howard Rotary Hoe. Contact: Warren Barton, 07 4696-6148, or email: warren.barton48@gmail.com QLD. (4/22 - M)
WANTED - 1925/26 MORRIS Type 2, 4 cylinder Engine or Parts there of. Matthew - 0418438442.
WANTED - For DH226 - Le Roi engine parts, or entire wreck. NSW only. Robert (02)6845-3279.
WANTED - STURMEY ARCHER Motorbike cylinder, approximately 400 - 600cc. Circa 1929-32. Matt - 0418438442. (8/22)
---------------------------------------------------------------------------------------------------------------------------------------------------------
IF YOU HAVE A SOURCE FOR REPAIRS, PARTS AND MAINTENANCE OF HOWARD MACHINERY, OR A SOURCE FOR PARTS, PLEASE CONTACT THE REGISTER (ROBERT), FOR LISTING ON THIS WEB-SITE - (02)6845-3279 or 0458 453 279.